Welcome to Nick Foster Entertainment, the Bay Area's largest provider of musical entertainment for social and corporate events. Whether your budget is $100 or $10,000, we have a wide variety of services that will make your event the one they'll remember. We now service Orange County, California and Las Vegas, Nevada.

For over a quarter century, Nick Foster Entertainment has provided Karaoke services to the greater bay area and beyond. The original, and still the best, we take pride in providing cutting-edge, high-quality technology. We've transitioned from CD's to laser discs to CD-Graphic hard drive units that offer the best and most reliable Karaoke experience around. To ensure your special event is flawless, our systems store all songs inside the actual karaoke unit. There is no need for Wi-Fi access and online streaming which can be temperamental and unreliable.

Our karaoke libraries are the most extensive around. Our systems are updated monthly to ensure that you have the latest songs! Choose from our Performer, Superstar or Elite systems and with the touch of a finger, you will be singing all your favorite hits. Our commercial, state-of-the-art systems are easy to use. Simply press in the number of the song you want to sing and hand over the mic! That's it!

Are your guests ready to switch gears for a while? As an added bonus, all of our Karaoke systems include an adaptor cord that easily plugs in to your MP3 player of choice when you are ready to play music for dinner and dancing.

Choose the system that fits your event and budget. Full service delivery and installation or a pick up option for our turn-key systems are available. Karaoke at its best. Give us a call today! 800-922-5118.
Our Services
Disc Jockeys and Karaoke Jockeys
Musicians, Bands and Orchestras
In House Band: Nick Foster & His Big Band Revue
Additional Audio Visual Equipment and Accessories
Contact Us
Monday through Friday, 10:00 am – 6:00 pm
Saturdays by appointment only.
Toll Free: (800) 922-5118
Phone: (650) 342-8827 Fax: (650) 342-8231
1126 Broadway Suite 1
Burlingame, Ca. 94010
E-mail: eventinfo@nickfoster.net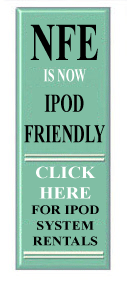 Our CD juke box rentals are a cost-effective way to provide your guests with the music they want to hear, when they want to hear it. Your guests will select from 2000+ songs from the Big Band era to the current hits of today. Our three fun-filled models are state-of-the-art, commercial-grade units delivered anywhere with a high power amplifier and two DJ sized speakers for premium sound. Click here for jukebox pictures and pricing.
Our commercial-grade karaoke units are designed to be all-in-one entertainment systems. You can sing, make announcements and listen to your favorite music – all through our high quality sound system. With the largest karaoke song libraries in the Bay Area, we feature music spanning from the '40s up to the current hits of today. Our songbooks, pencils and specialized request slips add the perfect touch, providing your guests with the complete "karaoke club experience". Ask about our karaoke jockeys – these showmen will keep your guests on center stage! karaoke pick up options only available in the San Francisco Bay Area. Click here for karaoke pictures and pricing.
From weddings to corporate events, bar mitzvahs to high school dances…we do the work; you have the fun. We work our magic by blending superior disc jockey event coordination, the best music selections and the right personality match from our roster of entertainers, event planners and wedding reception specialists. We have been serving the greater San Francisco Bay Area since 1985. Click here for disc jockey, DJ, KJ or karaoke entertainers for your next event.
Strolling musicians, mariachi bands, soloists, trios, harpists, quartets, classical ensembles, jazz bands, swing bands, variety dance bands, rock bands, tribute bands, steel drums and more! We work to align the needs of your event with the right musical talent. The result…the exact ambience, atmosphere and mood quality that your event requires. Click here for live music info.
Our "in-house" band, Nick Foster and His Big Band Revue, delivers Pop/Jazz arrangements from the "Great American Songbook". Nick's repertoire includes memorable classics influenced by Frank Sinatra, Ella Fitzgerald, Harry Connick Jr., Dean Martin, Nat King Cole, Neil Diamond, Tom Jones and more! Whether you choose the 5-piece Ensemble, the 8-piece Big Band or the full 18-piece Orchestra, Nick and the Band will deliver a performance that will fill your dance floor and keep your guests asking for more! Click here for more info.
From brief announcements to week-long conferences, from 10 to 10,000 guests; our pro sound audio visual equipment rental division will enable all of your attendees to enjoy crisp, yet warm, sound quality. Select one of our Pro Audio / pa system packages or customize your own. Nick Foster Entertainment stands behind every sound system with one goal – ensuring that each and every one of your guests hears every word and musical note! Click here to see our pa system rental packages.
Rent a podium and projector for your next conference. Use our accessories to create the exact look and feel that your event requires. Enjoy a 42" plasma display or lcd screen to draw in your audience and viewers alike; or create your very own disco using our commercial-grade lighting truss to light up your dance floor with a variety of lighting effects. Choose from additional speakers and wireless microphones to achieve just the right sound, look and feel you desire. Or, be your own disc jockey with our ready-to-go disc jockey equipment rental. You name it, we've got it! Click here for a la carte lighting and sound rentals.
Click here to download our marketing collaterals via pdf.
Click here or the "Links" tab to view and download our marketing collaterals!!

Copyright ©2002-2007 Nick Foster Entertainment - All rights reserved.